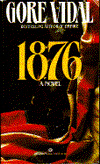 Book Description
"Vidal is superb! The performance is flawless!"

THE BOSTON SUNDAY GLOBE

Endlessly fascinating, brilliantly written, this #1 bestseller by the incomparable Gore Vidal explores the scandals of the Grant administration and the dark intrigues that marked America's presidential election in its centennial year.

Seeking to restore his financial assets, Charlie Schuyler, Aaron Burr's unacknowledged son, returns to America, hoping to arrange a marriage for his daughter. With these ambitions and with their own abundant charms, Charlie and his daughter soon find themselves at the center of American social and political power in those astonishing years when the ideals of a young republic had begun to fade and the excitement of empire took hold.