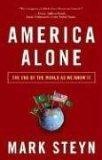 America Alone
The End of the World as We Know It
By Mark Steyn
Publisher: Regnery Publishing, Inc.
Language: English | Number of Pages: 214 | Format: Hardcover
Isbn-10: 0895260786 | Isbn-13: 9780895260789 | Publish date: 16/09/2006
Also available as: Paperback , Audio CD , eBook
Category: Non-fiction
Book Description
In this, his first major book, Mark Steyn--probably the most widely read, and wittiest, columnist in the English-speaking world--takes on the great poison of the twenty-first century: the anti-Americanism that fuels both Old Europe and radical Islam. America, Steyn argues, will have to stand alone. The world will be divided between America and the rest; and for our sake America had better win.