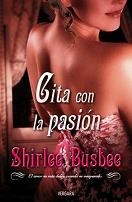 Cita con la pasión
Publisher: Ediciones B, S.A.
Language: Español | Number of Pages: 350 | Format: Softcover and Stapled
Isbn-10: 8466641572 | Isbn-13: 9788466641579 | Publish date: 01/05/2009 | Edition 1
Category: Romance
Book Description
El encuentro entre Nell Anslowe y Julian, conde de Wyndham, no podía haber sido más accidental. Ambos tenían un pasado difícil, y ninguno de ellos estaba dispuesto a volver a abrir su corazón. Pero el amor es más dulce cuando es inesperado...Una palpitante historia de amor e intriga en la Inglaterra de la época de la Regencia.