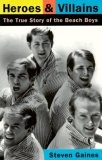 Heroes and Villains
the True Story of the "Beach Boys"
Publisher: The Perseus Books Group
Language: English | Number of Pages: 416 | Format: Paperback
Isbn-10: 0306806479 | Isbn-13: 9780306806476 | Publish date: 01/08/1995
Also available as: Hardcover
Book Description
The Beach Boys have been rolling, like the tide their great songs evoke, for more than thirty years, reaching professional peaks and tragic personal depths. In this electrifying account Steven Gaines reveals the gothic tale of violence, addiction, greed, genius, madness, and rock 'n' roll behind the wholesome, surf-and-sun image. Through candid interviews with close friends, family, and the Beach Boys themselves, Heroes and Villains portrays and evaluates all those who propelled the California myth, and the group who sang about it, into worldwide prominence: Murry Wilson, the corrosive father who abused them as children and exploited them as adults; Dennis Wilson, who explored every avenue of excess (including welcoming the entire Manson family into his home) to his inevitable self-destruction; the Wilsons cousin, frontman Mike Love, whose devotion to eastern religion could not quell his violent temper; the wives (more than ten), mistresses, managers, and producers who consumed huge pieces of the musical pie; and of course, the bands artistic center, Brian Wilson, the mentally fragile musical genius who achieved so much and then so little.
With dozens of photos, Heroes and Villains recounts the bitter saga of the American dream realized and distorted and the music that survived.