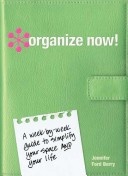 Organize Now!
A Week By Week Guide To Simplify Your Space And Your Life
Publisher: F&W Publications Inc
Language: English | Number of Pages: 240 | Format: Paperback
Isbn-10: 1600611087 | Isbn-13: 9781600611087 | Publish date: 26/09/2008
Book Description
With a unique week-by-week approach, "Organize Now!" gives readers simple and effective tools to organize every aspect of their lives.Jennifer Ford Berry walks the readers through each step of the organizing process for 52 different topics, dealing with each topic one week at a time. The advice is practical, straightforward and presented in checklists that anyone can use to see immediate results. Once it's organized, Jennifer advises readers how to keep it that way with tips on monthly and yearly maintenance.The weeks are not calendar specific, so readers can start the organizing process at any time of year. They can follow the book through from start to finish for a full organizational makeover or work through the book in any order they wish, hitting the topics they need the most help with first. The format is flexible and easy-to-use."Organize Now!" covers a wide variety of topics from the perennial clutter culprit, paperwork, to time, mental clutter, pets, purses and wallets, specific rooms in your home, and special events such as moving and planning for vacation.