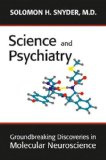 Science and Psychiatry
Groundbreaking Discoveries in Molecluar Neuroscience
Publisher: American Psychiatric Publishing, Inc.
Book Description
A pioneer in the identification of receptors for neurotransmitters and drugs and in the explanation of the actions of psychotropic agents, Solomon Snyder has been instrumental in the establishment of modern psychopharmacology. "Science and Psychiatry" is a collection of some of his best scientific papers from the past forty years, representing important advances in psychopharmacology and molecular biology. Some offer insight into modern neuroscience to help make sense of available psychotropic medications and point the way toward more effective and safer agents; others describe the underpinnings of psychopharmacology that practitioners need to know, especially regarding the role of receptors in drug action.The articles cover nine areas of research with particular attention to four groups of extraordinary discoveries for which Snyder is widely recognized: the identification of opiate receptors, characterization of the IP3 receptor, the establishment of nitric oxide as a transmitter in the brain, and the discovery that D-serine is the normal stimulus for the glycine site of the NMDA receptor.
Each section is accompanied by a commentary by a well-known authority that puts the discoveries in perspective. Together, they attest to the rich diversity of Snyder's research while conveying the origins of modern psychopharmacologic practice.