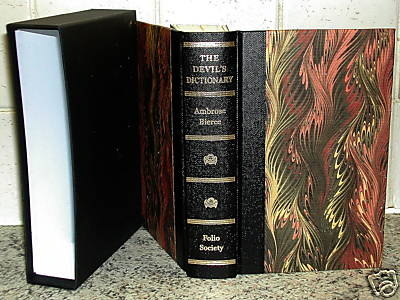 The Devil's Dictionary
Publisher: The Folio Society
Book Description
Synopsis

Bierce's classic work of satirical wit and Steadman's pointed pen redefine the way we see even the seemingly simplest of terms.
Library Journal

This enjoyable abridgment is an updated version of a classic lexicon by one of the 19th century's most famous satirists. Originally published between 1881 and 1886 as a regular feature in the Wasp, a San Francisco journal, and again in 1904 in Hearst papers, Bierce's 700 definitions are just as humorous, witty, and satiric today as they were then. They mock social, professional, and religious conventions while also providing a small glimpse into late 19th-century society. Entries include, for example, "Apologize" ("To lay the foundation for a future offence"); "Beggar" ("One who has relied on the assistance of his friends"); and "Saint" ("A dead sinner revised and edited"). Illustrations by satiric cartoonist Steadman complement the text, while Angus Calder's (The People's War) introduction provides basic biographical data on Bierce's life and works and a brief bibliography. Recommended for public and academic libraries.-Laurie Selwyn, Grayson Cty. Law Lib., Sherman, TX Copyright 2004 Reed Business Information.
More Reviews and Recommendations
Biography

Roy Morris, Jr., is the editor of America's Civil War and the author of Ambrose Bierce: Alone in Bad Company and Sheridan: The Life and Wars of General Phil Sheridan. He lives in Chattanooga, Tennessee.