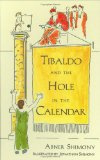 Tibaldo and the Hole in the Calendar
Publisher: Springer-Verlag New York Inc.
Language: English | Number of Pages: 184 | Format: Hardcover
Isbn-10: 0387949356 | Isbn-13: 9780387949352 | Publish date: 01/10/1997
Book Description
Tibaldo and the Hole in the Calendar is the story of how an eleven-year old boy growing up in 16th century Italy loses his birthday when the Gregorian calendar replaces the Julian calendar in 1582, and how he fights to prevent this loss. The author cleverly weaves elements of the cultural and scientific milieu of his time into an engaging and intelligent tale. Tibaldo's father is a medical assistant, and his sister is a midwife. He grows up learning about current medical practices by watching his father and sister and by listening to the great Professor Turisanus, for whom his father works. Tibaldo is fascinated by medicine and proves himself to be a fast learner, quickly gaining the respect of Professor Turasanus, who becomes a mentor for Tibaldo and sends him to the very best of schools. However, when Tibaldo learns that the Julian calendar is about to be revised, he realizes that he is about to lose his 13th birthday and determines to do something about this. The result is amusing and informative.