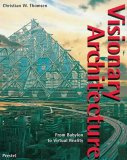 Visionary Architecture. From Babylon to Virtual Reality
(Architecture & Design)
Verleger: Prestel Verlag GmbH + Co.
Language: Deutsch | Number of Seiten: 192 | Format: Hardcover
Isbn-10: 3791314254 | Isbn-13: 9783791314259 | Publish date: 01/01/1994
Buchbeschreibung
Since the dawn of time, there have been architects who have yearned to reshape the world in which we live. This is a book about actual and visionary projects proposed by creative thinkers, iconoclasts, high-tech enthusiasts, environmentalists, media freaks, and other architectural visionaries. In short, it is a book about those who have endeavored to preserve creativity in their profession and whose innovative ideas have led, in practical terms, to the development of new architectural concepts, new ways of living and working, and new aesthetic forms. Christian W. Thomsen's fascinating discourse spans the history of building, from Babylon with its infamous tower, the symbol for the wicked city of antiquity - to the skyscraper and beyond. He investigates the Renaissance concept of the ideal city, the work of Piranesi, the revolutionary architecture of France and Russia, the exotic structures of the nineteenth century, and crystal palaces, watchtowers, lighthouses, and ivory towers. The journey continues by way of bizarre and grotesque architecture to contemporary visionary architecture, science-fiction and futuristic architecture, and the innovative realizations of the deconstructivists, finally concluding with media and virtual architectures. We live in an age in which science-fiction is more and more becoming "science fact." This book seeks to define a framework for such developments.