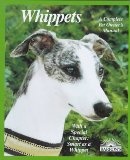 Whippets
A Complete Pet Owner's Manual
Publisher: Barron's Educational Series, Inc.
Language: English | Number of Pages: 96 | Format: Paperback
Isbn-10: 0764103121 | Isbn-13: 9780764103124 | Publish date: 01/01/1998
Illustrator or Penciler: Michelle Earle-Bridges
Book Description
The most extensive line of basic pet information and training guides on the market, Barron's Complete Pet Owner's Manuals are written by experts, and profusely illustrated with full-color photos and instructive, high-quality line art. Each manual is individually written. Not one of Barron's Complete Pet Owner's Manuals is a clone from a single common catch-all book, with one or two chapters added on to make it appear new. Instead, each Barron's manual has been planned, designed, and written from scratch?always by an experienced breeder, trainer, veterinarian, or qualified expert. Related to the English Greyhound, Whippets are often bred as racing dogs. Smaller than Greyhounds, they tend to be gentle and mild when inside the house, and make a family pet that is easy to care for. Here is information on the characteristics of this animal, plus advice on purchasing, grooming, training, health care, and much more.