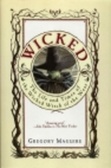 Blog this item
Wicked
the life and times of the wicked witch of the West : a novel
(61)
Like Wicked ?
Join aNobii to see if your friends read it, and discover similar books!
Sign up for free
Book Description
A fable for adults on the subject of destiny and free will by a writer of
children's books. It tells the story of Elphaba before she became the Wicked
Witch ...
Book Details
Rating:

(61)

5 stars

4 stars

3 stars

2 stars

1 star

English Books
Others

409 Pages

ISBN-10:

0739468979

ISBN-13:

9780739468975

Publish date:

2000-10-01
Improve_data
of this book