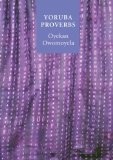 Blog this item
Yoruba proverbs
(1)
Like Yoruba proverbs ?
Join aNobii to see if your friends read it, and discover similar books!
Sign up for free
Book Description
Igi to to erin lerin nfara ro. It is a tree that is as mighty as the elephant
that the elephant leans on. (One should seek a worthy enough person to rely on
...
Book Details
Rating:

(1)

English Books
Hardcover

840 Pages

ISBN-10:

0803235763

ISBN-13:

9780803235762

Publisher:

Univ of Nebraska Pr

Publish date:

2005-07-01

Dimensions:

226 mm x 1,154 mm x 1,676 mm
Improve_data
of this book