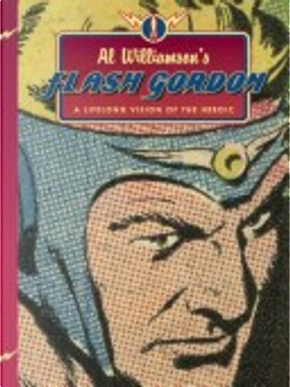 Al Williamson's Flash Gordon by Al Willi
...
Al Williamson's Flash Gordon
A Lifelong Vision of the Heroic
0
Reviews
0
Quotations
0
Notes
Description
Flash Gordon, introduced as a Sunday newspaper comic strip by King Features Syndicate in 1934, remains after more than 70 years, one of the best-known and most beloved epics of heroic fantasy produced in America. Initially envisioned and drawn by the brilliant Alex Raymond, the strip's mélange of alien wonders, beautiful damsels, interplanetary evil and peerless derring-do remains potent today, as witness its many adaptations in print, motion pictures and television. It has been cited by no less a popular fantasist than George Lucas as a primary influence on his Star Wars series. Beyond the lasting impact of the strip's heroic themes, the drawing skills of Raymond inspired a small army of succeeding cartoonists to take up his illustration-based stylistic mantle. Al Williamson is arguably the foremost of these acolytes, widely acclaimed as the artist who best exemplifies the original spirit of Raymond's creation, as well as being the most distinctive and lyric. His vision of the character, formed in childhood and deeply personal, captured the hearts of Flash Gordon readers like no other. Al Williamson's Flash Gordon: A Lifelong Vision of the Heroic, collects all the major works of the artist featuring the character. At 256 pages, it encompasses Williamson's three stints of depicting Flash in comic book format: the legendary King Comics stories from the 1960s, the 1980 adaptation of the Universal Flash Gordon motion picture, and the Marvel Comics miniseries of 1994. In addition to these classics of sequential storytelling, Al Williamson's Flash Gordon features Williamson's Flash drawings done for commercial illustration and prints, his assists on the Flash Gordon comic strip, a variety of Flash images contributed to amateur publications, and a selection of largely unpublished images spanning his interest in the character from childhood to the conclusion of his career. With an introduction by Sergio Aragones, text by Mark Schultz, and images reproduced directly from the artist's original drawings, this long-overdue collection of evocative artwork documents the lifelong impact that Flash Gordon had on Williamson and the particular impact that Williamson had on Flash Gordon.
Are willing to exchange it