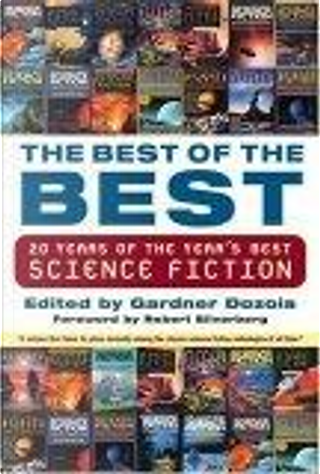 Best of the Best by William Gibson, Tony
...
Best of the Best
20 Years of the Year's Best Science Fiction
0
Reviews
0
Quotations
0
Notes
Description
For years, The Year's Best Science Fiction has been the most widely read short science fiction anthology of its kind. Now, after twenty-one annual collections, comes the ultimate in science fiction anthologies, The Best of the Best: 20 Years of the Year's Best Science Fiction, in which legendary editor Gardner Dozois selects the very best short stories for this landmark collection. Contributors include: * Stephen Baxter * Greg Bear * William Bigson * Terry Bisson * Pat Cadigan * Ted Chiang * John Crowley * Tony Daniel * Greg Egan * Molly Gloss * Eileen Gunn * Joe Haldeman * James Patrick Kelly * John Kessel * Nancy Kress * Ursula K. Le Guin * Ian R. MacLeod * David Marusek * Paul McAuley * Ian McDonald * Maureen F. McHugh * Robert Reed * Mike Resnick * Geoff Ryman * William Sander * Lucius Shepard * Robert Silverberg * Brian Stableford * Bruce Sterling * Charles Stross * Michael Swanwick * Steven Utley * Howard Waldrop * Walter Jon Williams * Connie Willis * Gene WolfeWith work spanning two decades, The Best of the Best stands as one of the ultimate science fiction anthologies ever published.
Are willing to exchange it