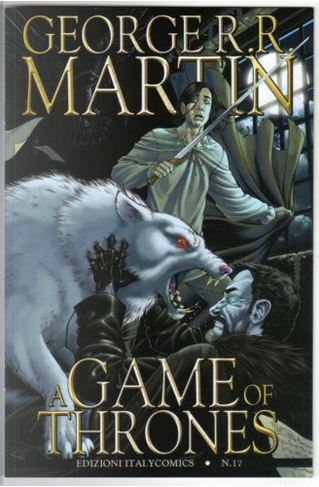 A Games of Thrones n. 17 by Daniel Abrah
...
A Games of Thrones n. 17
0
Reviews
0
Quotations
0
Notes
Description
La notizia dell'arresto di Eddard Stark per tradimento è giunta al Castello Nero dove Jon Snow, ora membro della Guardia Notturna, scopre che il peso dell'essere un bastardo è niente in confronto a quello di essere il figlio di un imputato di tradimento. Ma questo è l'ultimo dei suoi problemi, poiché i cadaveri congelati di due ranger, portati al castello per essere esaminati, si dimostrano vivi abbastanza da commettere un omicidio. Intanto, a Winterfell, Robb Stark, chiama i suoi vassalli e marcia verso il sud…anche se la donna appartenente ai selvatici, Osha, afferma che la vera lotta è al nord, contro i misteriosi Altri. Ma con Eddard Stark e Sansa in ostaggio, Robb sa che solo la vittoria sul campo può salvarli e così insieme a sua madre, Lady Catelyn, si prepara a un'audace sortita.
Are willing to exchange it