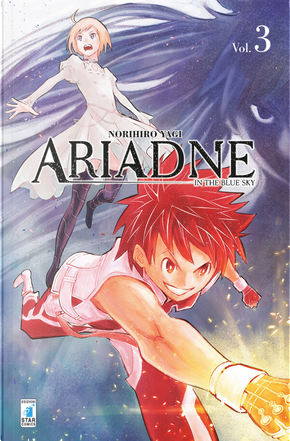 Ariadne in the blue sky. Vol. 3 by Norih
...
Ariadne in the blue sky. Vol. 3
0
Reviews
0
Quotations
0
Notes
Description
Il giovane Lacyl vive in una remota zona rurale ma la pacifica esistenza che conduce non è abbastanza per lui, e la sua mente si perde spesso in sogni in cui compaiono maestose città volanti. Un giorno si troverà a salvare una fanciulla sconosciuta, scoprendo così che le città volanti esistono davvero! La misteriosa Leana, infatti, altri non è che la principessa di Ariadne, una delle sette capitali incantate... Nel loro viaggio alla scoperta dell'ignoto, Lacyl e Leana arrivano alle miniere gestite dagli Shiu, all'interno delle quali troveranno ad attenderli un soldato che utilizza delle potentissime armi. Costui sembra nutrire un odio molto forte nei confronti dei photon carrier, e i suoi feroci attacchi metteranno ben presto alle strette il giovane Cavaliere del Cielo...
Are willing to exchange it