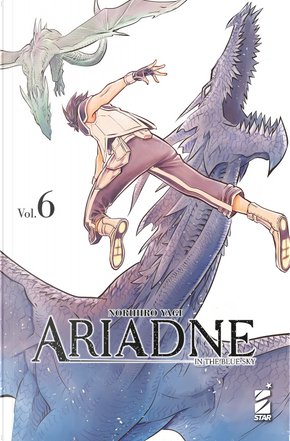 Ariadne in the blue sky. Vol. 6 by Norih
...
Ariadne in the blue sky. Vol. 6
0
Reviews
0
Quotations
0
Notes
Description
Nella piccola zona rurale in cui risiede ed è cresciuto, i giorni del giovane Lacyl scorrono semplici e scanditi dai ritmi della terra. A Lacyl, però, quella vita va un po' stretta, e il ragazzo spesso si perde in sogni di misteriose e maestose città volanti. I sogni diventano inaspettatamente realtà quando Lacyl, dimostrando una forza prodigiosa, salva una fanciulla sconosciuta da soldati armati di esoscheletri meccanici. Il giovane scopre infatti che non solo le città volanti esistono davvero, ma che la ragazza da lui soccorsa, Leana, altri non è che la principessa di Ariadne, una di queste sette capitali incantate. Leana – che è costretta a indossare pesantissimi stivali a causa di una fantomatica malattia che altrimenti la farebbe fluttuare nell'aria – è fuggita per poter esplorare il mondo, e nomina Lacyl sua guardia del corpo. Inizia così per il vulcanico duo un viaggio magico e suggestivo, alla scoperta di un universo fantasy vasto e minuziosamente caratterizzato dall'abile mano di Norihiro Yagi. In questo numero: L'avventura di Lacyl e Leana prosegue, e li porta a prendere parte a una battaglia imprevista in una nuova terra. I Lat, la cui attività di sussistenza è la caccia ai draghi, vengono attaccati dagli Tsuta, chiamati anche "figli dei draghi", e il fatale destino di guerra tra le due razze sembra compiersi. Un photon carrier di nome Inosh, un tempo compagno di Lacyl, si unisce al gruppo, la cui volontà e determinazione saranno messe a dura prova...
Are willing to exchange it