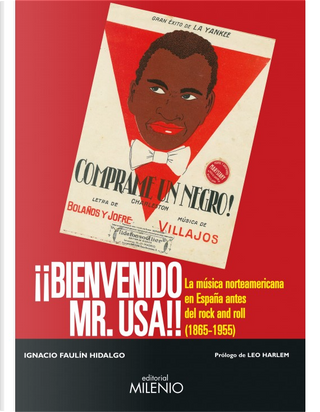 Bienvenido Mr. USA by Ignacio Faulín Hid
...
Bienvenido Mr. USA
La música norteamericana en España antes del rock and roll (1865-1955)
0
Reviews
0
Quotations
0
Notes
Description
Cuando a finales de 1955 la Columbia española publica "Rock around the clock" –en la versión universalmente conocida de Bill Haley and his Comets– nuestro país lleva ya noventa años recibiendo, conociendo y disfrutando ritmos norteamericanos. Pues sí, antes del rock y del pop, lo estadounidense había llegado con puntualidad y formaba parte de nuestra escena. De los minstrels shows, pasando por la era del jazz en los veinte, el swing de los treinta y cuarenta, o gracias a ritmos arrebatadores –del charleston al boogie woogie– la presencia musical USA es continua, muy evidente. Pero este libro es mucho más: una historia transversal, completísima y definitiva que narra el conjunto de la música popular cohabitadora con aquellos sonidos. Un relato donde no faltan medios de comunicación, locales nocturnos, drogas legales e ilegales, subculturas juveniles, la evolución de la industria discográfica y un negocio siempre inmerso en la industria del entretenimiento con sus gustos cambiantes y reglas eternas regidas por la oferta y la demanda.
Are willing to exchange it