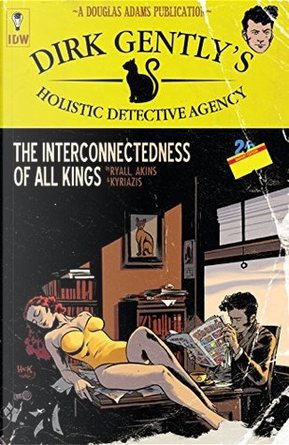 Dirk gently's holistic detective agency
...
Dirk gently's holistic detective agency
The interconnectedness of all kings
0
Reviews
0
Quotations
0
Notes
Description
After writing all the many and conflicting versions of the legendary "Hitchhiker's Guide to the Galaxy," beloved author Douglas Adams created Dirk Gently: a detective with a belief in the fundamental interconnectedness of all things, a unique relationship with the laws of probability and physics, and a love of cats and pizza. In his first-ever comic series, Dirk has been forced to leave his beloved England behind, coming to the too-sunny, too-cheery, and altogether too-bizarre-even-for-Dirk city of San Diego, California, where he gets embroiled in three separate (or are they?) cases involving reincarnated Egyptians, golden cell phones, and copycat killers. All this in a new town seemingly incapable of making even a single proper cup of tea.
Are willing to exchange it