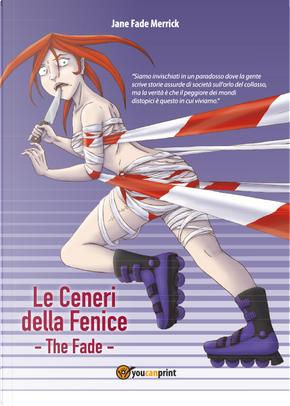 Le ceneri della fenice. The Fade by Jane
...
Le ceneri della fenice. The Fade
0
Reviews
0
Quotations
0
Notes
Description
Fade vive abbandonata a se stessa, in continua lotta per tirare avanti in una società che ingoia chiunque non tenga il passo con il suo ritmo; con la sola compagnia di un coltello da cucina e di una cicatrice incastonata nella gamba che le ricordano ogni giorno chi è e perché si trovi lì. Mentre sta rubacchiando in un market, incontra Jag, un ragazzino dall'aspetto inquietante che la convince a unirsi a lui nel suo piano stramboide: diventare finanziatore principale di una delle band di maggior successo del momento, di cui è fan sfegatato, e - quanto pare - i soldi per farlo non gli mancano. Lasciatasi convincere incontrerà Nef, classico plaboy da strapazzo, che alla fine imparerà che il mondo non è tutto ai suoi piedi come pensava...
Are willing to exchange it