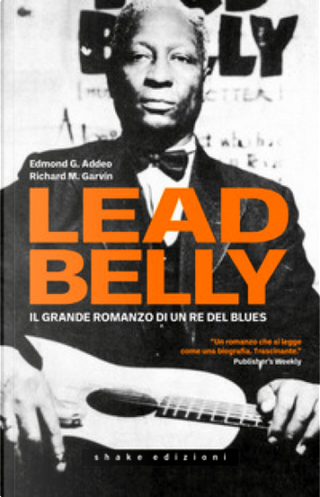 Leadbelly by Edmond G. Addeo, Richard M.
...
Leadbelly
Il grande romanzo di un re del blues
0
Reviews
0
Quotations
0
Notes
Description
La straordinaria, avventurosa e travagliata vita di Leadbelly, il leggendario bluesman "re della chitarra a 12 corde", che riuscì a scampare per ben due volte al duro carcere razzista grazie alle sue grandi capacità musicali. Huddie Leadbetter, in arte "Leadbelly", pancia di piombo, era un gigante per stazza. Non rifuggiva dallo scontro fisico e incuteva timore ai bianchi. Per questo conobbe spesso la galera, a volte ingiustamente. Ma era anche molto bello d'aspetto, e amava le donne sposate. Per tutte queste ragioni i guai gli piovvero addosso come grandine. E per questo iniziò a cantare il blues. Incontrò Blind Lemon Jefferson e suonò a lungo con lui, fece jam session in bettole buie e sporche con Woody Guthrie e Cisco Houston, incantò John A. Lomax, il più importante etnomusicologo americano, che gli fece incidere centinaia di meravigliosi brani, stregò il Governatore Allen che infine lo graziò, fece risse con mariti gelosi e musicisti rivali, sperperò migliaia di dollari in whisky, bordelli e vestiti. La sua forza gli permetteva di suonare la chitarra con una potenza mai sentita prima. I suoi versi erano talvolta cupi come la notte e affilati come lame, altre volte dolci come il miele, spesso poetici come la luna. E scossero il pubblico, da allora fino ai nostri giorni. "Non fu un'ispirazione, fu la ispirazione. Se non fosse per lui, non sarei mai stato quello che sono. Non penso che sia realmente morto. Ci sono persone i cui corpi muoiono, ma non penso che il loro spirito muoia con loro." Van Morrison Il grande musicista, il mito del blues amato e imitato nello stile da musicisti quali Tom Waits, Kurt Cobain e Nick Cave. Suoi pezzi sono stati ripresi da Nirvana, Eric Clapton, Led Zeppelin, Odetta, Credence Clearwater Revival, Pete Seeger, The Weavers, Woody Guthrie, The White Stripes, Johnny Cash, Elvis Presley, Grateful Dead, Doors, Pearl Jam, Rolling Stones, Lonnie Donegan, Tom Waits, Ry Cooder, Van Morrison, Ram Jam... "No Leadbelly, no Lonnie Donegan. Perciò senza Leadbelly, non ci sarebbero stati i Beatles." George Harrison.
Are willing to exchange it