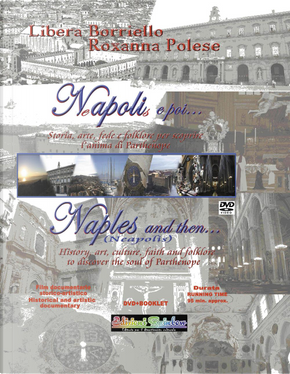 Napoli e poi...-Naples and then... by Li
...
Napoli e poi...-Naples and then...
0
Reviews
0
Quotations
0
Notes
Description
Un'antica capitale che ci avvolge con i suoi Musei, Castelli, Palazzi nobiliari, Chiese, perché a Napoli: "...puoi allungare la mano e toccare il passato, respirare ed essere nel presente, sorridere alla vita e presagire il futuro." Visiteremo le Catacombe di San Gennaro e San Gaudioso. Entreremo nel Museo Archeologico e in quello di Capodimonte. Ci stupiremo di fronte alle bellezze pittoriche e scultoree della scuola Barocca napoletana, le quali impreziosiscono la Reale Cappella del Tesoro di San Gennaro, il Pio Monte della Misericordia, il Museo Diocesano, le chiese della Certosa di San Martino, del Gesù Nuovo, San Gregorio Armeno, San Domenico Maggiore, il Duomo etc. "Napoli e poi... (Naples and then...)", è un libro + film documentario storico-artistico-archeologico (in Dvd, versione italiano-inglese, 16:9 widescreen, Pal all regions, stereo 2.0, durata 95 minuti) che ci farà scoprire, luoghi d'arte e religiosi unici al mondo, nate dalla contaminazione di diversi linguaggi culturali.
Are willing to exchange it