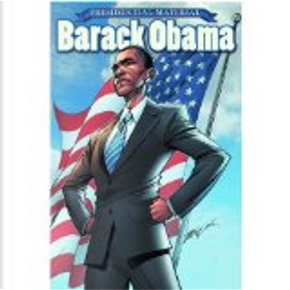 Presidential Material Flipbook by Andrew
...
Presidential Material Flipbook
Barack Obama and John McCain (Presidential Material)
0
Reviews
0
Quotations
0
Notes
Description
In the vein of great biography comics from years past (Pope John Paul?II,?St. Francis of Assisi), come two biographies of the 2008 Presidential candidates. This year?s presidential primary season was historic for many reasons, and?Barack Obama?s rise from humble beginnings to his place on the November ballot makes for an extraordinary tale! Acclaimed artist?J. Scott Campbell?provides a special cover for the issue! John McCain?is a true American hero, and his tale, taking him from the hells of Viet Nam to becoming the Republican nominee for President is a story well worth telling.?J. Scott Campbell?again provides the cover for the comic-biography of one of the two candidates in November?s historic Presidential contest. Want to get both sides of the story? This special flipbook edition features the illustrated biographies of both Barack Obama and John McCain, with each story adorned by?J. Scott Campbell?s cover art.
Are willing to exchange it