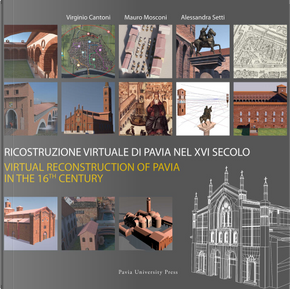 Ricostruzione virtuale di Pavia nel XVI
...
Ricostruzione virtuale di Pavia nel XVI secolo-Virtual reconstruction of Pavia in the 16th century
0
Reviews
0
Quotations
0
Notes
Description
Questo secondo libro, nato sulla scia dell'attività svolta per l'EXPO 2015 di Milano, illustra le prove degli studenti del corso di Computer vision dell'a.a. 2016/17 e testimonia l'entusiasmo creato dalle prime realizzazioni sulla battaglia di Pavia, che hanno stimolato gli studenti tanto da quasi triplicarne la partecipazione al corso. Sulla base di tale entusiasmo si è completamente costruito questo nuovo progetto sulla ricostruzione 3d di Pavia in epoca rinascimentale, senza finanziamenti, ma con una forza lavoro studentesca così pronta, determinata ed efficace da poter portare a termine un'impresa che non è mai stata tentata con questo dettaglio e approfondimento. L'uso delle tecniche più avanzate, combinato al diffuso desiderio di realizzare qualcosa di completamente nuovo, ha portato alla creazione di una 'piattaforma' in grado di supportare applicazioni innovative e di sicuro impatto nella promozione della storia della nostra città e delle sue bellezze. A completamento di quest'opera a breve verranno resi pubblici i video di nove percorsi di visita di Pavia rinascimentale.
Are willing to exchange it