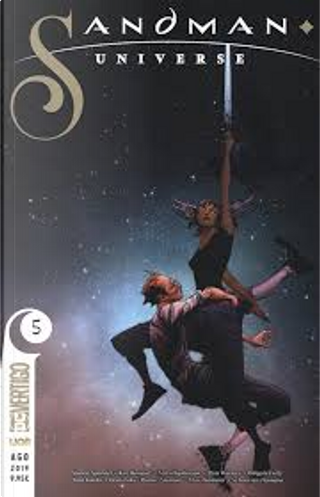 Sandman universe vol. 5 by Dan Watters,
...
Sandman universe vol. 5
0
Reviews
0
Quotations
0
Notes
Description
In questo quinto numero la situazione, per i personaggi di The Dreaming, è diventata drammatica. Daniel, il sovrano delle Terre del Sogno, si è allontanato dal suo dominio e questo ha generato un grave vuoto di potere. Il bibliotecario Lucien, flagellato da problemi di memoria, non è riuscito a sostituirlo con efficacia, così l'inserviente Merv ha risvegliato il Giudice Ezekiel Gallows. Questo antico incubo è un maniaco del controllo e ha deciso di annientare qualsiasi forma di dissenso all'interno del Regno. Per ora Gallows, assistito da Brute e Glob, ha arrestato l'irrequieta Dora e un suo amico "senza volto", e presto entrambi potrebbero essere uccisi... In House Of Whispers, fumetto ambientato a New Orleans, Latoya e Maggie, due ragazze del posto, hanno contratto una malattia che rende le persone simili a zombie, cioè incapaci di provare qualsiasi emozione. Il morbo è contagioso, dunque Erzulie e i suoi seguaci della Casa dei Sussurri dovranno intervenire per arginarlo... Sulle pagine di Lucifer invece scopriremo alcune verità importanti: finalmente capiremo chi è la moglie di John Decker, uno dei protagonisti della serie, e acquisiremo qualche informazione in più sul luogo in cui è rinchiuso il Signore degli Inferi. Chi è il misterioso Jack che sta tramando nell'ombra? Infine Tim Hunter, le cui peripezie sono al centro di Books Of Magic, si prepara ad affrontare un'altra sfida. La Dottoressa Rose sta cercando in tutti i modi di aiutare questo giovane mago a scoprire i suoi talenti, ma cosa accade quando lei non può essere presente per proteggerlo?
Are willing to exchange it