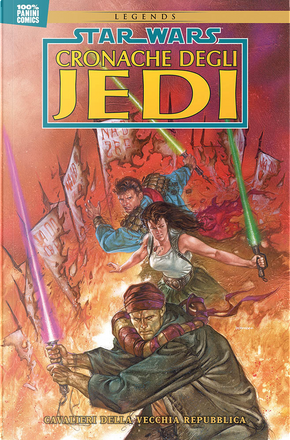 Star Wars: Cronache degli Jedi vol. 3 by
...
Star Wars: Cronache degli Jedi vol. 3
Cavalieri della vecchia Repubblica
0
Reviews
0
Quotations
0
Notes
Description
Contiene: Star Wars: Tales of the Jedi #1/5, The Freedon Nadd Uprising #1/2. Quattromila anni prima di Luke, Ian e Leila! Il Maestro Jedi Arca di Arkania manda i suoi tre Padawan Ulic Qel-Droma, suo fratello Cay e Tott Doneeta su Onderon dove da secoli si combatte una guerra civile. Il pianeta, però, è sotto il giogo del Lato Oscuro da quando, 400 anni prima, il Signore Oscuro Freedon Nadd ne prese il controllo. Con loro, Nomi Sunrider, moglie di uno Jedi ucciso da alcuni ladri, che decide, suo malgrado, di seguire le orme del marito.
Are willing to exchange it