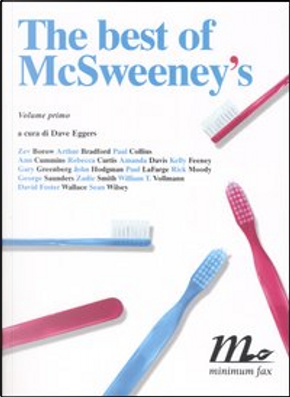 The best of McSweeney's by Amanda Davis,
...
The best of McSweeney's
Volume I
10
Reviews
1
Quotation
1
Note
Description
"McSweeney's", la rivista letteraria fondata e diretta da Dave Eggers è il fenomeno più rivoluzionario della scena letteraria americana degli ultimi anni. Adorata, invidiata, contestata, imitata, capace di diventare in pochi mesi punto di riferimento di un'intera generazione di scrittori e lettori,senza perdere il suo orgoglioso status di prodotto autogestito e autofinanziato, è un oggetto di culto che ha segnato la nascita di una nuova estetica. In questa antologia dei suoi primi due anni di vita, testi di David Foster Wallace, Rick Moody, Jonathan Lethem, Zadie Smith, William Vollmann si accompagnano a corrispondenze epistolari con Unabomber e reportage sul secessionismo hawaiano...