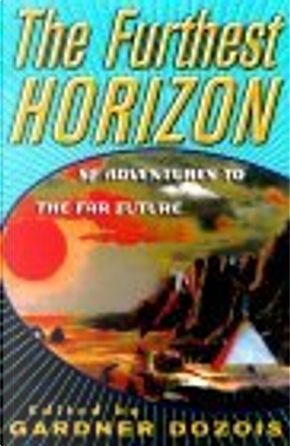 The Furthest Horizon by Alexander Jablok
...
The Furthest Horizon
(SF Adventures to the Far Future)
0
Reviews
0
Quotations
0
Notes
Description
"The most important and influential SF-magazine editor in the world."-InterzoneIt is the essence of science fiction to chart the possibilities of the future, but it takes the hand of a master to capture the farthest reaches of time--futures almost unimaginably distant. The Furthest Horizon collects seventeen ofthe most inventive and audacious visions of the future by many acclaimed writers, including:* Brian Aldiss * Poul Anderson * Avram Davidson * Joe Haldeman * Alexander Jablokov * Paul J. McAuley * Ian McDonald * Michael Moorcock * Frederik Pohl * Robert Reed * Keith Roberts * Robert Silverberg * Cordwainer Smith * James Tiptree, Jr. * Jack Vance * Walter Jon Williams * Gene Wolfe"Dozois is to the 1980s and 1990s what John W. Campbell, Jr., was to the 1940s and 1950s-the finest editor in the world of short SF."-Publishers Weekly "Dozois is arguably the most accomplished editor in the field of modern genre short fiction."-SF SiteAUTHORBIO: GARDNER DOZOIS edits the Year's Best Science Fiction anthologies and Asimov's SF magazine from his home in Philadelphia, Pennsylvania. He has won the Hugo Award for Best Editor ten times.
Are willing to exchange it