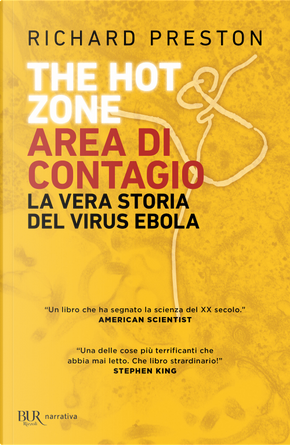 The hot zone. Area di contagio. La vera
...
The hot zone. Area di contagio. La vera storia del virus Ebola
0
Reviews
0
Quotations
0
Notes
Description
Una lettura illuminante in un'epoca di pandemia e una lezione insuperata su come si diffondono gli agenti patogeni. Non un romanzo, ma una storia vera: quella di come, dagli anni Ottanta, si è manifestato uno dei virus più letali degli ultimi anni, Ebola, a partire dalle foreste tropicali, con effetti rapidissimi e devastanti. Dalla difficoltà di riconoscerne i sintomi all'inefficacia delle terapie, alla velocità di propagazione e agli esiti letali: questo testo, per cui il "New York Times" ha coniato la definizione di "nonfiction thriller", coniuga rigorosa indagine scientifica e narrazione travolgente per raccontare un fenomeno che oggi, alla luce dell'epidemia mondiale di coronavirus, risulta attualissimo e ancora più inquietante.
Are willing to exchange it