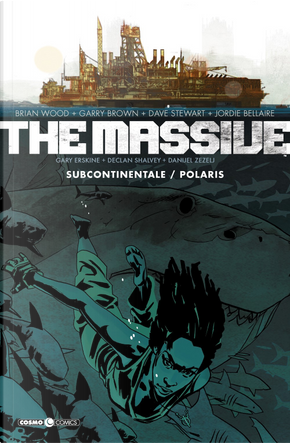 The massive. Vol. 2: Subcontinentale-Pol
...
The massive. Vol. 2: Subcontinentale-Polaris
0
Reviews
0
Quotations
0
Notes
Description
In un mondo devastato dalla misteriosa serie di cataclismi divenuta tristemente nota come "Il Crollo", la Kapital continua la sua ricerca della nave sorella Massive, di cui, dal primo giorno dell'apocalisse, si sono perse le tracce e che, per motivi sconosciuti, appare sul radar a intermittenza come un fantasma. nel frattempo, il morale dell'equipaggio è sempre più basso... Questo secondo volume di "The Massive" raccoglie due capitoli fondamentali della lunga odissea post-apocalittica dell'equipaggio della Kapital, che si ritroverà a fare i conti col regime di una nazione sovrana e, in seguito, si addentrerà nell'Artico... in quella che potrebbe rivelarsi la tragica fine della sua missione. Brian Wood ("DMZ", "Northlanders", "Aliens: Defiance") e una serie di artisti di prim'ordine ci trascinano in un mondo in cui la Natura si è ribellata al suo principale nemico: l'essere umano. Contiene "The Massive" #7-12.
Are willing to exchange it