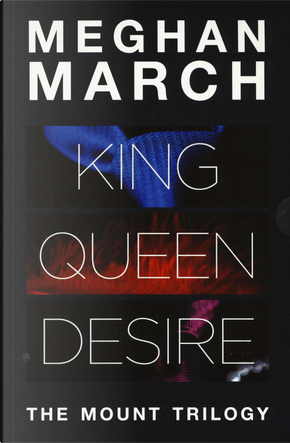 The Mount trilogy: King. Un re senza reg
...
The Mount trilogy: King. Un re senza regole-Queen. La regina indomabile-Desire. L'impero del desiderio
0
Reviews
0
Quotations
0
Notes
Description
King: New Orleans è il mio regno. Nessuno conosce il mio nome, ma in città il mio potere è assoluto. Ciò che voglio lo ottengo sempre. Mi piace che la gente sia in debito con me. E che abbia paura. Soprattutto se si tratta di una bella, giovane vedova alle prese con un business da uomini. Lei non sa che la volevo da molto tempo. D'ora in avanti io sarò il suo padrone. E poi potrei anche tenerla solo per il mio piacere. è il momento di riscuotere il mio debito. Keira Kilgore è proprietà di Lachlan Mount. Queen: Io sono la sua distrazione, il mio corpo è il suo giocattolo. Ho dovuto cedere, non avevo scelta. Lo odio, mi dico, ma ogni volta che entra da quella porta sento un brivido. Come posso desiderarlo e detestarlo allo stesso tempo? Mi sta facendo impazzire. Non dovevo finire in questo gorgo, dovevo immaginare che Lachlan Mount è un maschio senza regole. Ma non ho nessuna intenzione di arrendermi, non voglio che veda le mie debolezze. Pagherò il mio debito e manterrò intatto il mio cuore. Desire: lo difendo sempre ciò che possiedo. Compresa Keira Kilgore. Lei è mia. Non mi basta più il suo corpo. È una donna orgogliosa, ma prima o poi si arrenderà. Niente ci può tenere separati. Nessuno deve mettersi fra noi. Keira pagherà il suo debito fino in fondo. Con il cuore.
Are willing to exchange it