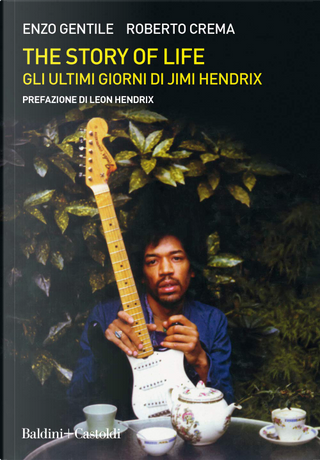 The story of life by Enzo Gentile, Rober
...
The story of life
Gli ultimi giorni di Jimi Hendrix
0
Reviews
0
Quotations
0
Notes
Description
Il 18 settembre 1970 lasciava questa terra uno dei più grandi rappresentanti della musica del Novecento. Un evento, la morte di Jimi Hendrix, a Londra, che sarà a lungo esibito e strumentalizzato, oggetto di false informazioni, ipotesi fantasiose e versioni distorte. Ancora oggi qualcosa affiora, di tanto in tanto, nelle cronache e nei libri di storia, come l'overdose per droga spacciata quale causa del decesso. In questo libro si ricostruiscono, minuziosamente, gli spostamenti, gli incontri, i viaggi, le esibizioni, la quotidianità privata e quella professionale di un artista magistrale, il massimo innovatore nel campo del-la chitarra rock. Per capire e sondare la parabola di Jimi Hendrix nell'ultimo mese di vita ci siamo affidati alle fonti più attendibili: documenti, riviste, giornali dell'epoca, selezionando le interviste più interessanti rilasciate in quei giorni e ascoltando le persone che ne avevano condiviso il palco, le trasferte ma anche il tempo libero. Ne esce un ritratto sorprendente, con i dubbi e le aspirazioni, i progetti e i ripensamenti, le gioie e la stanchezza di un musicista che il tempo non ha logorato, di cui restituire l'opera, oggi, a mezzo secolo di distanza, ancora attualissima, amata, studiata, imitata. Oltre alle voci di chi lo aveva frequentato, il libro - impreziosito da un ricco inserto fotografico di 40 pagine, con alcuni inediti - comprende un ampio resoconto sulla battaglia legale per l'eredità, per chiudersi con una serie di contributi e testimonianze di personaggi che hanno da raccontare, in esclusiva, il loro punto di vista "hendrixiano": George Benson, Eric Burdon, Pat Metheny, Franco Mussida, Beppe Severgnini, Fabio Treves, Carlo Verdone. Prefazione di Leon Hendrix.
Are willing to exchange it