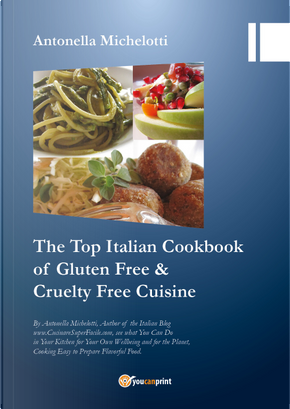 The top Italian cookbook for gluten free
...
The top Italian cookbook for gluten free & cruelty free cuisine
0
Reviews
0
Quotations
0
Notes
Description
Mangiar bene e cucinare buoni piatti è ciò che tutti vorremmo. Questo è un fatto. Ma quando l'organismo vieta alcuni alimenti e l'etica ne vieta altri occorre un sacco di esperienza e creatività per portare ogni giorno in tavola piatti sempre nuovi, gustosi e sani. L'autrice ha cercato senza esito un libro di cucina italiana verace che fornisse solo ricette senza glutine e senza componenti animali (vegan), perciò ha deciso di scriverne uno lei. Gli ingredienti di questo libro sono: trent'anni di esperienza di cucina professionale; buona conoscenza delle materie prime e dei loro effetti sull'organismo; creatività; la cucina italiana e toscana in particolare, che è nel suo DNA. È stata una sfida stimolante cucinare per un'alimentazione senza glutine e vegan senza mai perdere di vista l'obiettivo del gusto e del piacere per il buon cibo. Le ricette sono arricchite qua e là da storie di vita e aneddoti saporiti. Entrare in contatto con questo nuovo modo di cucinare metterà il lettore in condizione di rendere i piatti di tutti i giorni sempre diversi e sorprendenti.
Are willing to exchange it