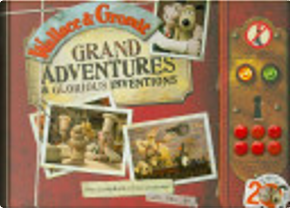 Wallace and Gromit: Grand Adventures and
...
Wallace and Gromit: Grand Adventures and Glorious Inventions
The Scrapbook of an Inventor and His Dog
0
Reviews
0
Quotations
0
Notes
Description
Wallace and Gromit are back! In their latest adventure, "A Matter of Loaf and Death", our two heroes start a new bakery business and Wallace finds a new love interest - Piella Bakewell, bread enthusiast. This official, all-singing, all-dancing book is timed to coincide with the film's release in late 2008. "Grand Adventures and Glorious Inventions" is set out as Wallace's secret invention scrapbook, packed with snippets of information and personal memorabilia about his cracking contraptions and all his madcap capers with Gromit. It features all the main characters from the three previous films ("The Wrong Trousers", "A Close Shave and Curse of Were-Rabbit") and offers a taster of the new film. It uses actual stills from the films and includes an interactive element woven throughout the book in the form of fold-out blueprints, pull-tabs and practical 'how to create' suggestions. Knitting patterns, "Cheese Week" magazine, world-class marrows...prepare to enter the chaotic world of an amateur inventor and his dog! This book is a delight for young and old and a must for every discerning Wallace and Gromit fan. 37.6 million BBC viewers watched Wallace and Gromit over the Christmas period!
Are willing to exchange it