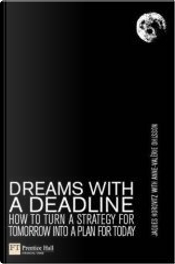 A Dream with a Deadline
Turning Strategy into Action
by Anne-Valerie Ohlsson-Corboz, Jacques Horovitz
1Review0Quotations0Notes
Description
In A Nutshell
==
A Dream with a Deadline shows managers how to clarify their vision of where they want
to go, and shows them how to get there.
==
Motivated, successful businesses have an inspiring purpose. Their people have a clear
vision and sense of direction to rally around. But, a vision without action is just a
daydream. And a badly executed vision can become nightmare, as some companies
have discovered to their cost.
A dream with a deadline, however, can propel businesses and managers towards a
bright future.
"Let's put a man on the moon in 10 years" was a dream with a deadline. The deadline
was met, the dream came true and history was made. Most managers will have slightly more modest dreams, but they still need to know how to make those dreams come true.
Visionary and practical, A Dream with a Deadline gives managers the tools they need to
transform a well-articulated and inspiring vision into positive action and results. It is a
book for dreamers who have the courage and commitment to take action and make the
dream become reality.
By the time they have finished this book, they will know how to clarify their direction,
how to share the vision and create the culture and enthusiasm needed to reach for the
sky. And, by using the revealing self-diagnostic tool, they will know where to
concentrate their time, energy and resources in order to make their vision happen.
The tools in the book have been tested with over 30 companies worldwide, varying in
size from 600 to 70,000 employees and operating in a variety of markets, from
construction to international retail. They have all found that using the tools in this book
has helped them transform their dreams into action and turn a strategy for tomorrow into
a plan for today.