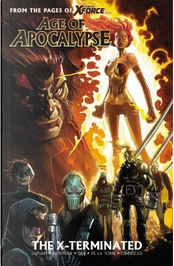 Age of Apocalypse, Vol. 1 by Dave Lapham, Rick Remender
Age of Apocalypse, Vol. 1
The X-Terminated
Illustrated or Penciled by
Renato Arlem
,
Billy Tan
,
Davide Gianfelice
,
Colorist
Lee Loughridge
,
Illustrated or Penciled by
Roberto De La Torre
0Reviews0Quotations0Notes
Description
Return to the Age of Apocalypse, as the AOA X-Men make their final stand against the evil Weapon X - and lose! New AOA super-hero team the X-Terminated must rise to take the fallen X-Men's place - but what makes them so drastically different? With Jean Grey and Sabretooth at their lowest ebb, and Weapon X resurrecting dead X-Men to destroy the human race, the X-Terminated activate their secret weapon: the AOA version of the Hulk! Then, Jean Grey goes on her first mission with the X-Terminated, but will she survive it? Plus: Meet the AOA Quentin Quire, and find out why so many fear him! It's all-new, all-different, all-out action in the Age of Apocalypse! Collecting AGE OF APOCALYPSE #1-6, UNCANNY X-FORCE #19.1 and material from POINT ONE.