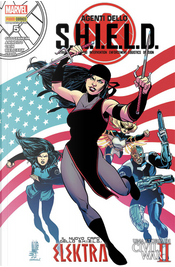 Agenti dello S.H.I.E.L.D. vol. 5
Il nuovo capo dello S.H.I.E.L.D., Elektra
by Chad Bowers, Chelsea Cain, Chris Sims, Marc Guggenheim
Translated by
Giovanni Agozzino
,
Illustrated or Penciled by
Kate Niemczyk
,
Ario Anindito
,
Brian Level
,
Adapted by
Marco Rizzo
,
Artist or Inker
Sean Parsons
,
Colorist
Jordan Boyd
,
Rachelle Rosenberg
,
Calligrapher
Claudia Sartoretti
0Reviews0Quotations0Notes
Description
Contiene: Agents of S.H.I.E.L.D. #9-10, Mockingbird #7-8, Ms. Marvel #12 (II), A Year of Marvels: The Umbeatable (I).
• Date il benvenuto alla nuova leader dello S.H.I.E.L.D.: ELEKTRA! • Le conseguenze di Civil War II continuano a pesare sullo S.H.I.E.L.D.! • Elektra ha preso il posto di Phil Coulson... ma non tutti sono contenti! • Missioni top secret per Nick Fury, Mimo e la nuova Vedova Rossa!