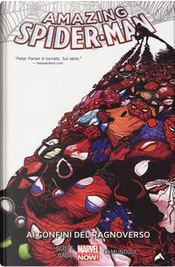 Ai confini del ragnoverso. Amazing Spider-Man by Christos N. Gage, Dan Slott
Ai confini del ragnoverso. Amazing Spider-Man
2
by Christos N. Gage, Dan Slott
Translated by
Pier Paolo Ronchetti
,
Illustrated or Penciled by
Giuseppe Camuncoli
,
Adam Kubert
,
Humberto Ramos
,
Miguel A. Sepulveda
0Reviews0Quotations0Notes
Description
Nell'anno 2099 Otto Octavius - alias Superior Spider-Man - segue una traccia di ragni morti attraverso il multiverso. I decessi lo conducono a un uomo di nome Karn, ma una volta faccia a faccia con il suo avversario, Otto viene sconfitto senza pietà. Superior Spider-Man, ormai perso nel tempo, dovrà riunire un esercito di Uomini Ragno nella speranza di interrompere la scia di sangue di Karn e dei suoi fratelli. Intanto, per il vero Spider-Man è il momento di un team-up con la nuova Ms. Marvel in una storia dalle dimensioni gigantesche (quasi quanto quelle di Kamala Khan!). La strada per il Ragnoverso inizia qui. Contiene Amazing Spider-Man (2014) #7-8, Superior Spider-Man #32-33 e una storia da Free Comic Book Day 2014 (Guardìans of the Galaxy) #1.