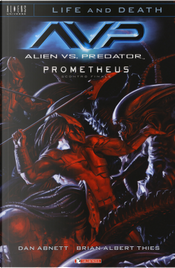 Alien vs. Predator-Prometheus. Scontro finale. Life and death. Vol. 4
by Brian Albert Thies, Dan Abnett
Translated by
Stefano Menchetti
,
Illustrated or Penciled by
Rain Beredo
0Reviews0Quotations0Notes
Description
Yautja, xenomorfi, ingegneri: le disgrazie non vengono mai da sole! Ne sanno qualcosa il capitano Paget e gli altri superstiti che sono sfuggiti agli attacchi delle tre razze aliene più letali dell'Universo. Ora, su LV-223, la situazione è al limite: un grande branco di xenomorfi si sta avvicinando e, come se non bastasse, all'orizzonte compare un intero esercito di yautja che ha tutta l'aria di essere in marcia verso una guerra. Ma forse, in questo oceano di morte, c'è ancora una speranza, quella rappresentata da Chris e da ciò che porta in grembo: un embrione di xenomorfo, l'unica regina ancora in grado di deporre uova. Ciò che potrebbe salvare i pochi superstiti di questa guerra, quindi, è anche una delle più grandi minacce alla loro stessa sopravvivenza. E, chiunque vinca... noi perdiamo! Alien vs. Predator - scritta da Dan Abnett e disegnata da Brian Albert Thies — è la quarta e ultima parte di Life and Death, la saga che prosegue la narrazione di Fire and Stone e che attraversa trasversalmente gli universi narrativi di Predator, Aliens, Alien VS. Predator e Prometheus, gettando ancora una volta nella mischia umani, xenomorfi, yautja e ingegneri. Il volume contiene anche l'epilogo della serie Prometheus: Scontro Finale.