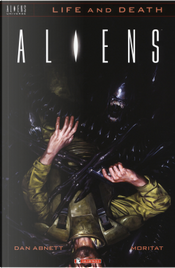 Aliens. Life and death. Vol. 3
by Dan Abnett
Translated by
Stefano Menchetti
,
Illustrated or Penciled by
Moritat
,
Rain Beredo
0Reviews0Quotations0Notes
Description
Su LV-223 la situazione è disperata: il gruppo di marine coloniali e altri superstiti che hanno abbandonato Tartarus è intrappolato sulla superficie del planetoide, in compagnia di un gran numero di "zecche" e di un ingegnere infuriato. Come se non bastasse, la luna del pianeta Calpamos, ormai divenuta un vero e proprio campo di battaglia, è stata contaminata in maniera massiccia dall'Accelerante: gli esiti potrebbero essere catastrofici, soprattutto considerato che, nel sottosuolo, c'è un nido di xenomorfi. Per alcuni è giunto il tempo di compiere scelte estremamente difficili, per altri è giunto il tempo di comportarsi da eroi... e sì, per qualcuno è giunto il tempo di morire. «Aliens» —scritta da Dan Abnett e disegnata da Moritat — è la terza parte di «Life and death», la saga che prosegue la narrazione di «Fire and Stone» e che attraversa trasversalmente gli universi narrativi di «Predator»,« Aliens», «Alien VS Predator» e «Prometheus», gettando ancora una volta nella mischia umani, xenomorfi, yautja e ingegneri.