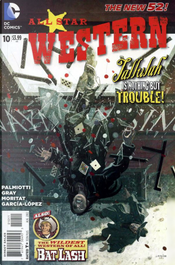 All Star Western Vol.3 #10
The War of Lords and Owls: Part One
by Jimmy Palmiotti, Justin Gray
Illustrated or Penciled by
Moritat
,
Jacket design or artwork by
Jose Ladronn
0Reviews0Quotations0Notes
Description
Part one of a story exposing the beginning of a battle for GOTHAM CITY between THE COURT OF OWLS and THE CRIME BIBLE!
TALLULAH BLACK is back!
And in a new BAT LASH backup story illustrated by legendary artist JOSE LUIS GARCIA-LOPEZ, an outraged father is accusing Bat of tarnishing the honor of his twin daughters – and he's making his case with a double-barreled shotgun!