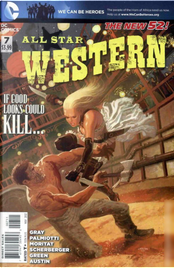 All Star Western Vol.3 #7
by Jimmy Palmiotti, Justin Gray
Artist or Inker
Terry Austin
,
Dan Green
,
Illustrated or Penciled by
Moritat
,
Jacket design or artwork by
Moritat
,
Colorist
Michael Atiyeh
,
Illustrated or Penciled by
Patrick Scherberger
,
Colorist
Gabriel Bautista
,
Jr. Jose Ladronn
0Reviews0Quotations0Notes
Description
Jonah Hex tracks the kidnapper Thurston Moody to New Orleans in pursuit of his bounty. But he and Amadeus Arkham find New Orleans under attack by the August 7, a group of anti-immigrant, steampunk terrorists. Only the renowned Nighthawk and Cinnamon stand between the terrorists and the immigrant workforce of this city. Hex consents to put the bounty aside (for the moment) to help his friends and finds himself in a battle to the death! Plus: Some of the best love stories are tempered with revenge, especially in the case of Nighthawk and Cinnamon.