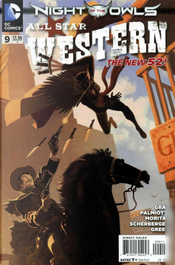 All Star Western Vol.3 #9
by Jimmy Palmiotti, Justin Gray
Artist or Inker
Dan Green
,
Illustrated or Penciled by
Moritat
,
Colorist
Michael Atiyeh
,
Jacket design or artwork by
Ladronn
,
Colorist
Gabriel Bautista
0Reviews0Quotations0Notes
Description
A tie-in to "NIGHT OF THE OWLS!" Concluding JONAH HEX'S battle with THE AUGUST 7! Discover what the Court of Owls was up to in GOTHAM CITY circa 1880! NIGHTHAWK and CINNAMON hunt down killers and fall in love in this issue's backup story.