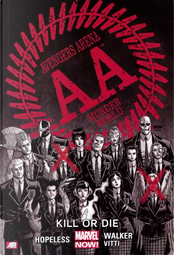 Avengers Arena, Vol. 1 by Dennis Hopeless
Avengers Arena, Vol. 1
Kill or Die
Illustrated or Penciled by
Kev Walker
,
Alessandro Vitti
,
Colorist
Frank Martin
0Reviews0Quotations0Notes
Description
Collects Avengers Arena #1-6

Trapped on an isolated island, 16 superhuman teens (including cult favorites like members of the Runaways, the Avengers Academy and Darkhawk) are given a chilling ultimatum by their demented captor: Fight or die...only one will walk out alive!
Thus begins a primal battle that will test the skills, stamina and morals of each combatant. Welcome to Murder World, where secrets are plenty, alliances are fleeting, and the key to victory might be rewriting the rules of the game. Who will survive? As Cammi and Hazmat battle the mysterious Deathlocket, X-23 and Juston Seyfert's Sentinel join the fray... but who is the killer stalking the heroes in their sleep? Who are the students of the Braddock Aacdemy? And why does Darkhawk equal death? We dare you to tune in to your new favorite comic... NOW!