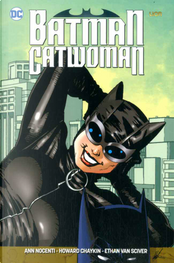 Batman/Catwoman
by Ann Nocenti, Howard Chaykin
Translated by
Francesca Riccardo
,
Illustrated or Penciled by
Rich Faber
,
Jesus Aburto
,
Chris Chuckry
,
Ethan Van Sciver
,
Rodney Ramos
,
Contributions by
Giovanni Spadaro
0Reviews0Quotations0Notes
Description
La storia di amore/odio tra Batman e Catwoman è lunghissima, e non c'è modo migliore di celebrarla se non con alcune storie dal passato della coppia che ci fanno conoscere meglio la loro tormentata relazione. In "Batman/Catwoman: Trail of the Gun", tutto il sottobosco criminale è sulle tracce di un'arma che non manca mai il suo bersaglio. Catwoman, considerandola il colpo perfetto per coronare la sua reputazione di regina dei ladri, ha deciso di tenerla alla larga dalle varie fazioni criminali. Ma non ha fatto i conti con un altro contendente: la scia letale dell'arma ha attirato l'attenzione di Batman. Mentre in "Batman/Catwoman: Follow the Money", i due si troveranno coinvolti in una truffa ai danni della Wayne Enterprise. Soltanto la più grande ladra di Gotham può aiutare il Cavaliere Oscuro a recuperare un bottino così importante.