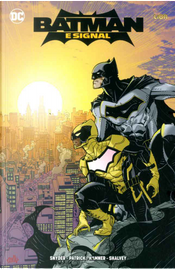 Batman e Signal by Scott Snyder, Tony Patrick
Batman e Signal
Translated by
Antonio David Alberto
,
Illustrated or Penciled by
Francesco Francavilla
,
Pete Pantazis
,
Declan Shalvey
,
Jordie Bellaire
,
Minkyu Jung
,
Laura Martin
,
Cully Hamner
,
Klaus Janson
,
Contributions by
Manuel Puppo
0Reviews0Quotations0Notes
Description
Dalle ombre di Gotham emerge un nuovo eroe: Signal. Dopo mesi di addestramento, e gli eventi di "Notti Oscure: Metal", Duke Thomas è finalmente pronto ad uscire dall'ombra del Cavaliere Oscuro a diventare Signal e prendere il suo posto come protettore di Gotham... durante il giorno. Quando gli adolescenti dei Narrows, il quartiere di Duke e uno dei più poveri di Gotham, iniziano a manifestare poteri meta-umani con risultati drammatici e violenti, Batman e Signal inizieranno una indagine che li porterà a scoprire una inaspettata connessione proprio con le abilità di Duke. "Batman e Signal" raccoglie le storie di appendice apparse originariamente su "All Star Batman" #1-4 e #6-9 scritte da Scott Snyder e illustrate da Declan Shalvey e Francesco Francavilla e la miniserie B"atman and the Signal" #1-3 scritta da Scott Snyder e Tony Patrick con matite di Cully Hamner.