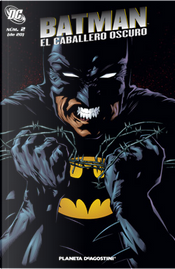 Batman: El caballero oscuro #2 (de 20)
by Bob Gale, Dennis O'Neil, Devin Grayson, Greg Rucka, Ian Edginton, Lisa Klink
Illustrated or Penciled by
Frank Teran
,
Guy Davis
,
Chris Renaud
,
Jason Pearson
,
Dale Eaglesham
,
D'Israeli
,
Phil Winslade
,
Artist or Inker
Sal Buscema
,
Sean Parsons
,
Cam Smith
,
Colorist
D'Israeli
,
Noelle Giddings
,
Ian Laughlin
,
Digital Chameleon
,
Gloria Vasquez
,
Pamela Rambo
0Reviews0Quotations0Notes
Description
Este número comprende el material de los comic-books USA Detective Comics Vol.1 #731(IV/99), #732 (V/99), #733 (VI/99), Batman: Legends of the Dark Knight Vol.1 #117 (V/99), Batman: Shadow of the Bat Vol.1 #85 (V/99), #86 (VI/99), Batman Vol.1 #565 (V/99) y The Batman Chronicles Vol.1 #16 (III/99) -primera y tercera historia-.

Este número contiene 9 historias:
(DC#731) La fe del miedo (4): No tengas miedo (22 págs.)
(LoDK#117) Pan y circo Primera parte (22 págs.)
(SoB#85) Pan y circo: Conclusión (22 págs.)
(B#565) Mosaico: Primera parte (22 págs.)
(DC#732) Mosaico: Segunda parte (22 págs.)
(SoB#86) Hogar, dulce hogar (22 págs.)
(DC#733) Tonos de gris (22 págs.)
(TBC#16) Dos menos: Un relato del camino hacia Tierra de Nadie (22 págs.)
(TBC#16) Harold (6 págs.)

Tras los devastadores sucesos de Batman: Cataclismo, y el primer volumen de la impactante y apasionante saga Tierra de Nadie, este tomo continua con la saga épica de Batman y sus aliados en el momento más oscuro de Gotham, con historias escritas por Greg Rucka, Bob Gale y Dennis O'Neil, y dibujadas por D'Israeli, Jason Pearson y Phil Winslade, entre otros.