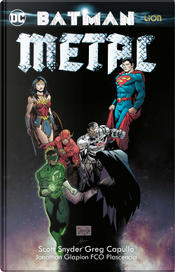 Batman - Metal
Illustrated or Penciled by
Riccardo Federici
,
Jamie Mendoza
,
Riley Rossmo
,
Francis Manapul
,
Artist or Inker
Jonathan Glapion
,
Klaus Janson
,
Kevin Nowlan
,
Scott Williams
,
Danny Miki
,
Andrew Hennessy
,
Norm Rapmund
,
Sean Parsons
,
Jorge Jimenez
,
Colorist
Jeromy Cox
,
Dean White
,
Hi-fi
,
Wil Quintana
,
Fco Plascencia
,
Rain Beredo
,
Nathan Fairbairn
,
Alex Sinclair
,
Ivan Plascencia
,
Arif Prianto
,
Blond
,
Romulando Fajardo Jr
,
Adam Brown
,
Adriano Lucas
,
Alejandro Sanchez
,
Jeremiah Skipper
,
Jason Wright
0Reviews0Quotations0Notes
Description
Contiene :

Death of Hawkman 1-6, Dark Days: The Forge 1, Dark Days: The Casting 1, Dark Nights: Metal 1-6, Dark Knights: Batman – The Red Death 1, Dark Knights: Batman – The Murder Machine 1, Dark Knights: Batman – The Dawnbreaker 1, Dark Knights: Batman – The Drowned 1, Dark Knights: Batman – The Merciless 1, Dark Knights: Batman – The Devastator 1, Dark Knights: Batman Who Laughs 1, Dark Knights Rising: The Wild Hunt 1 , Teen Titans 12, Nightwing 29, Green Arrow 32, Suicide Squad 26, Batman: Lost 1, The Flash 33, Justice League 32-33, Hal Jordan and the Green Lantern Corps 32, Hawkman: Found 1

NOTTI OSCURE: METAL è la saga che ha rivoluzionato l'universo DC, e le cui ripercussioni continuano a scuotere le fondamenta di tutto il multiverso. Finalmente presentiamo in edizione omnibus la totalità della saga, compresa del prologo "LA MORTE DI HAWKMAN", disponibile solo qua! Gli autori più importanti della DC, da Scott Snyder a Grant Morrison, e gli artisti più blasonati come Greg Capullo, Jim Lee, Andy Kubert, John Romita jr. e le star italiane Carmine Di Giandomenico e Mirka Andolfo tutti insieme per una storia incredibile! Fatevi affascinare anche voi dal Multiverso Oscuro, e terrorizzare dai Batman malvagi di altre dimensioni, giunti nell'universo DC per distruggerlo!