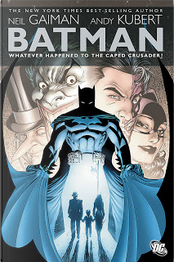 Batman: Whatever Happened to the Caped Crusader?
by Neil Gaiman
Illustrated or Penciled by
Mike Hoffman
,
Bernie Mireault
,
Andy Kubert
,
Mark Buckingham
,
Artist or Inker
Scott Williams
,
Matt Wagner
,
Kevin Nowlan
,
Colorist
Nansi Hoolahan
,
Tom McCraw
,
Alex Sinclair
,
Joe Matt
4Reviews0Quotations0Notes
Description
New York Times best-selling author Neil Gaiman (THE SANDMAN) joins a murderer's row of superstar artists in lending his unique touch to the Batman mythos! Spotlighting the story "Whatever Happened to the Caped Crusader?," from BATMAN #686 and DETECTIVE COMICS #853, in which Gaiman joins artist Andy Kubert and inker Scott Williams for a story that shines a new light on the Batman mythos, this title also collects stories from SECRET ORIGINS #36, SECRET ORIGINS SPECIAL #1 and BATMAN BLACK AND WHITE #2.