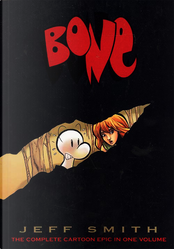 Bone
The Complete Cartoon Epic in One Volume
by Jeff Smith
Description
An American graphic novel first! The complete 1300-page epic adventure from start to finish in one deluxe trade paperback.
After being run out of Boneville, the three Bone cousins, Fone Bone, Phoney Bone and Smiley Bone are separated and lost in a vast uncharted desert. One by one they find their way into a deep forested valley filled with wonderful and terrifying creatures. It will be the longest - but funniest - year of their lives.
Winner of 11 Harvey Awards and 10 Eisner Awards including Best Cartoonist and Best Humor Publication, as well as being named Best Comic Book by the National Cartoonists Society, Bone has also won multiple international awards in Italy, France, Germany, Spain, Finland and Norway.